Mention you found them on USABreakdown.com!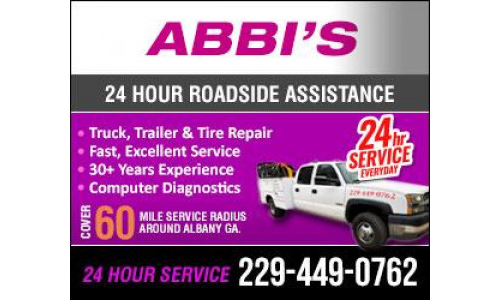 ABBI'S 24HR ROAD SERVICE – Family Owned
229-449-0762 After Hours: 229-406-4892 Fast, Excellent Service – Competitive Rates!
24/7 Truck, Trailer, Tire Repair & Service – 30+ Years Experience
Cover 100 Mile Service Radius Around Albany GA. and ALL Surrounding Areas
* Computer Diagnostics
* Truck & Trailer Repair
* New, Used & Recapped Tires
* Fleet & Preventative Maintenance
* Mobile Welding
Services:
Engine
Electrical
Brakes & Air
Coolant Repairs
DOT Inspections
Liftgates
Dry Bulk Trailer Repairs
A/C Repair
Hydraulics
Transmissions
Suspension
Drive Train
Drive Line
Oil Change & Lube
Radiator Repair
Hydraulics
Jump Starts / Fuel Delivery and More….
We are a small town family owned operation where good service means everything. We have been in the trucking industry
for over 30 years so our name and reputation still speaks for itself. 24 Hour Roadside Repair Services for Semi Trucks
We Service all Sizes of New, Used & Recap Tires!
310 Cordele Road, Albany, GA 31705

8.6 mi
2318 North Monroe Street, Albany, Georgia 31701

13.12 mi
2702 Palmyra Road, Albany, GA 31707

14.37 mi