Mention you found them on USABreakdown.com!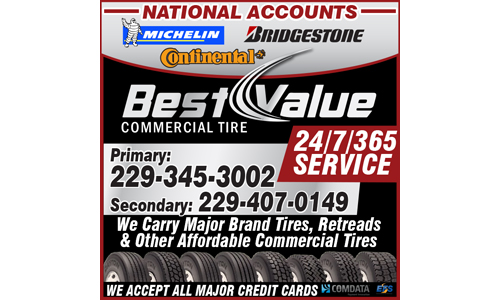 We specialize in Commercial Tires & roadside assistance specifically.
We provide 24/7 Emergency Road Service for Commercial Trucks & Trailers. We cover up to a 100 mile radius.
We also have a shop located in Cordele, GA.
We accept Most Major National Accounts. ( Michelin, Bridgestone, Continental )
We also offer other affordable brands.
Our Busines is open Mon- FRI 9:00am – 5:00 PM (Also 24/7 Roadside Service.)
National Tire Accounts
Bridgestone, Michelin, Continental
106 16th Avenue East, Cordele, Georgia 31015

0.76 mi
106 16th Avenue East, Cordele, Georgia 31015

0.76 mi
1525 E 8th Ave, Cordele, GA 31015

0.87 mi