Mention you found them on USABreakdown.com!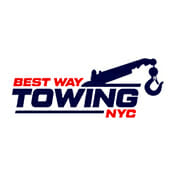 54-30 48th St Suit 4, Queens, New York 11378
715 11th Ave #1A, New York, NY 10019, Manhattan, NY 10019
In the most populated and biggest city of the United States New York, Best Way Towing NYC has been operating a business and serving the people since 2008. When you are heading towards your destination location and your car suddenly stops because of an unexpected breakdown, you just have to contact at (646) 771-2474. Our expert team will ask you for some information related to your vehicle's problem when you contact us. After taking the information regarding the problem we locate your location first, then arrive there within less than 30 minutes. Best Way Towing NYC has a licensed and certified team that will make all the possible solutions to get back your vehicle on the road in the minimum time period, just because of serving in the field for more than 20 years. In case any service will not work and towing is the only solution left for your car's problem, then we will tow your vehicle to the nearest mechanic shop or to the destination location.
The services we offer are not only reliable and stress-free but also affordable too, so will not cost heavy damage to your pockets. Best Way Towing NYC did not charge any hidden or additional charges, because we value the money of our customers and also know how hard it is to earn, that's why we did not take advantage of their helpless situation. We are serving the people in the areas of Manhattan, Queen, and Brooklyn, with honesty and dedication, trying our level best to not make the situation more frustrating and annoying for them. When you experience a situation of being stranded in New York City because of an unexpected vehicle breakdown, and need a tow truck near me, without wasting a second give us a call at (646) 771-2474.
58-80 Borden Ave, Maspeth, NY 11378

0.53 mi
180 greenpoint ave, brooklyn, New york 11222

1.77 mi
Jamaica, NY 11421

4.22 mi