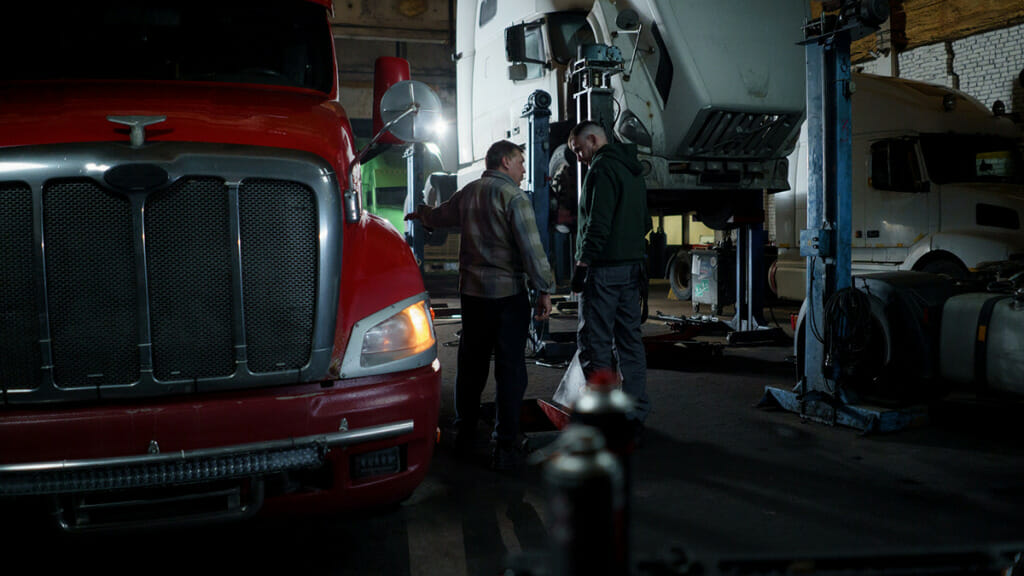 No commercial driver likes it when they have a truck breakdown. Knowing what to do when your truck breaks down helps keep the road safe for you and others, while saving your time and money when you can minimize downtime. In this article, we will cover what truckers must do when they have a breakdown to get back on the road ASAP, including:
Be Prepared
Don't Panic
Find a Safe Spot off the Road
Secure the Scene
Inspect the Truck with Caution
Call Roadside Assistance
Stay Away from the Road
Wait for Help
Finding the Best Truck Repair
Follow these 9 tips and best-practices to stay safe during a breakdown.
1. Be Prepared
It's only a matter of time before your truck breaks down, so it's imperative that you have all of the necessary equipment and knowledge beforehand. During your CDL examination, you learned the particular procedure for what to do in a breakdown emergency. Essentially, you must secure the scene (which we'll cover below), but you must have required equipment on hand to do so. For nearly all commercial trucks, this includes:
Three (3) or more orange reflective warning triangles
Fire extinguisher(s)
Spare electrical fuses (unless equipped with circuit breakers)
While it is an optional piece of equipment, a CB radio is an invaluable piece of equipment in the event of a breakdown. Having a CB enables you to contact other drivers to your status so they can avoid your vehicle and any potential road hazards (i.e. shredded tires) ahead of time. 
2. Don't Panic
Breakdowns can be a stressful ordeal – especially if you were involved in an accident, need to  meet tight delivery times, or want to keep your wheels moving to keep earning mileage to pay your bills. As your first priority, it is up to you to keep your cool to protect yourself and others. Commercial drivers are held to a higher standard and pose a greater risk to the general public, so act accordingly. Take a few deep breaths to calm your heart rate and assess the situation. Doing something rash, such as getting out of your vehicle, can lead to simple mistakes such as not engaging your parking brakes. 
3. Find a Safe Spot off the Road
Truck breakdowns usually occur gradually, giving you enough time to find a safe spot off the road to handle the new scenario. Safe spots typically include an emergency breakdown lane, shoulder, or other open area – but your priority should be to get out of traffic. If not, you can cause traffic blockages and potentially dangerous situations, not to mention that roadside assistance may find it difficult to get to you. 
4. Secure the Scene
Now that your truck is safely off the road, your responsibility is to secure the scene. First, turn on your hazard lights and activate your parking lights. This is important to warn oncoming traffic. 
Second, put on a reflective vest. This indicates to other drivers that your vehicle is inoperable and helps your visibility when you are out of the vehicle. 
Next, place orange warning triangles outside if you feel you can do so safely – typically within 10 minutes of stopping the vehicle. The placement of these triangles will vary based on the location where you stop and road conditions. The following are best-practices for emergency triangle placements for truck drivers:
Two lane traffic and undivided highways

One triangle 100 ft. in front of the vehicle
One triangle 10 ft. behind the vehicle
One triangle 100 ft. behind the vehicle

Divided highways and one-way roads 

One triangle 10 ft. behind the vehicle
One triangle 100 ft. behind the vehicle
One triangle 200 ft. behind the vehicle 

Obstructed view

One triangle 100 ft. ahead of the vehicle
One triangle behind 10 ft.
Rearmost triangle between 100 ft. and 500 ft. (enough distance to provide ample warning)

Avoid using flares, as these devices can ignite hazmat materials, cause injury if improperly used, and may even ignite the surrounding environment around you.
5. Inspect the Truck with Caution
It's important to always take caution when exiting the truck to visually inspect the damage. To do so, commercial drivers should leave through the passenger side door to avoid traffic. However, if you feel unsafe, remain inside with your seatbelt on. If your engine is smoking or you detect flames, get as far away from the truck as possible and call 911 to alert emergency responders.
6. Call Roadside Assistance
Once you have a clear idea of what happened to your vehicle, it is time to call for emergency breakdown service. For company drivers, this can mean getting in contact with your breakdown department for further instructions; for independent owner-operators, it's up to you to arrange emergency roadside assistance. In both cases, you will have to provide your location, what the condition of your vehicle is, and what you believe to be the problem. 
For tire repairs and other minor repairs, your vehicle can be repaired on the side of the road as necessary. For major repairs, your vehicle will be towed to a designated location. 
Don't perform any repairs that you may not be qualified for. Unless you have the training and know-how, it is better to wait for roadside assistance to get you back on the road again or to a nearby commercial truck repair shop. 
7. Stay Away from the Road
While waiting for help, it's important to stay away from the road and in your vehicle unless absolutely necessary. Because there is the potential for a passing vehicle to hit you (especially at night or in poor visibility). If you need to be outside of the vehicle or believe that your vehicle may catch fire, stand behind a barrier or simply move away from the road. 
8. Wait for Help
Depending on how far you are away from services, you may have to wait several hours for roadside assistance or a tow truck to arrive. Paying attention to your Hours of Service (HOS) is critical, as your hours may expire or you can use the opportunity to reset your clock depending on your circumstances. 
During this waiting period, you may have to interact with law enforcement. Be prepared with any necessary identification as well as provide them with information about how you are waiting for roadside assistance. If an accident occurred, you may be required to perform various tasks. These include filling out necessary information, taking a drug test, providing your current HOS, and complying with their orders (such as moving your vehicle if it is possible to a safer location).
9. Finding the Best Truck Repair Services
If roadside assistance can't fix your vehicle, your vehicle may be towed to the nearest service location. While many roadside assistance companies will offer to tow your vehicle directly to the shop they are affiliated with, you may want to have a choice where your vehicle is brought to.

USABreakdown offers a nationwide truck and trailer breakdown directory that provides a comprehensive list of fully-vetted truck repair shops to get your back on the road again. By browsing through the directory, you can find a highly-rated shop that offer knowledgeable truck mechanics, fast response times, and service in a reasonable distance from where you've broken down. Understanding what service you expect to receive will help you save money and provide an estimate of when you'll be back on the road after a breakdown.
Do you have a suggestion for new drivers when they experience a breakdown with their truck? Let us know in the comments!