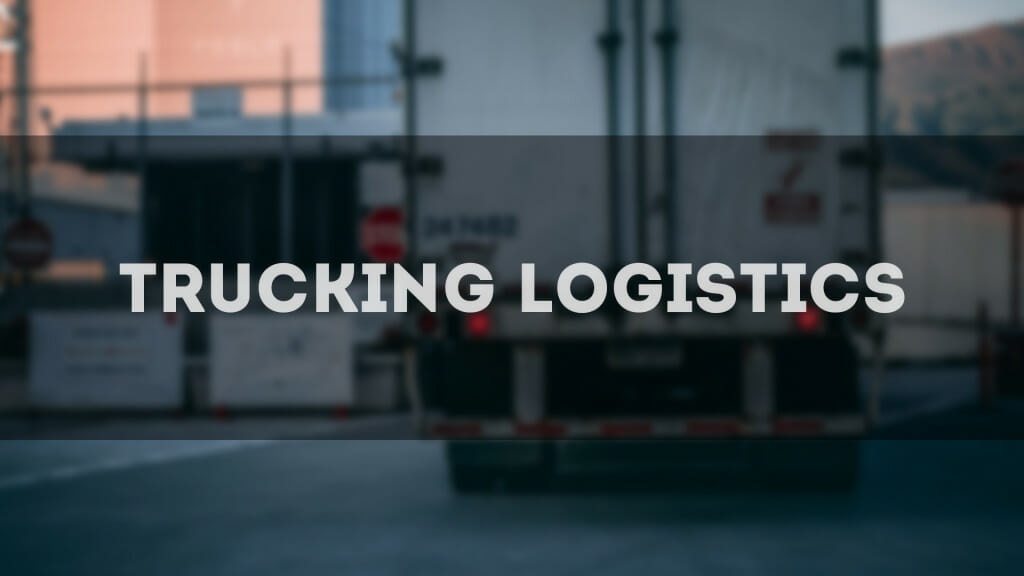 No matter what materials are being transported, it is vital to have trucking logistics in place for your company. In addition, the fleet operations may need dispatch software for its day to day operations management. Finally, delivery times of a product are essential to have quick routes. Thus logistics in the trucking industry needs to be a well-oiled machine to keep budget costs low.
What is Trucking Logistics?
Trucking logistics can be defined as the research and planning of trucking operations. Typically, the logistics of trucking considers all the factors involved in the transportation of goods by truck to maximize productivity and efficiency. According to market trends, planning the most efficient routes for truck drivers with fueling locations is essential. Also, knowing the truck type for the particular task and hiring quality truck drivers are crucial in planning. 
Historically, logistics was a term used in military operation preparations. Today, logistics and planning are advantageous in the civilian sector. Therefore, trucking logistics must consider all possible factors in each operation of the business. By doing so, the company will help acquire the best results in all future endeavors. 
As logistics has developed, the concept is now utilized in many sectors, including trucking. The trucking industry now uses the same military approach with an extensive analysis of its operations.
In many industrialized nations, trucks usually are the primary means for commercial transportation. The circulation of goods with excellent trucking logistics provides increased success. Logistics used in trucking contributes to the wealth of a nation's economy.
It is well-known transportation is a very high expense for any business. Ask any economic analyst, and they will agree. This means quality logistics may dramatically decrease financial costs. Through planning your mode of logistics can eliminate unnecessary expenditures. 
In time this could limit the success of a business.
Truck route analysis is vital to developing one trucking logistics. It is essential to look for ways to improve efficiency. Improved efficiency leads to reduced delivery times. Reduced delivery times lead to reduced overhead costs and the ability to move more products. In more simple terms, this means you are spending less and selling more. This is a winning formula for increased business growth.
Logistics of the Loads
It is essential to consider the precise types of loads being carried. The load type will determine the best means of transport. In addition, emphasis on road safety is necessary to ensure the secure transportation of goods and the protection of truck drivers and regular commuters by planning delivery routes for specific loads. 
The most demanding aspects of trucking are heavy hauling and long hauling. Knowing the needs of getting these products safely to the endpoints is needed for good trucking logistics. Therefore, it is crucial to examine all factors to help facilitate these more complicated types of transport.
Supply Chain Logistics Software
Many private companies can find supply chain logistics software. They are commonly known as third-party logistics. If you are new to supply chain logistics it is crucial to ask for advice and support. These third-party logistic companies provide numerous types of information and assistance. Most have an excellent understanding of statistical data to planning trucking strategies. 
In addition, some trucking supply chain logistic software companies might offer their own warehouse space, drivers, and transport. Reaching out to these companies could add value to the plans you already in place.
According to the growing international scope of trade and investment, many supply chain logistics companies are familiar with particular countries' customs laws and calculate the most efficient means to navigate endemic and international laws.
Supply chain logistics is enhancing over the road trucking operation significantly. Over the road trucking companies can improve revenues and operational productivity with modern logistics systems. 
Service efficiency and business profitability are the main overall benefits of implementing trucking logistics. Service efficiency makes certain goods across the country are being delivered as efficiently as possible. 
Improving Trucking Logistics With Productivity
There are several factors to consider in improving productivity.
The primary process of trucking logistics includes identifying the optimally efficient routes for the fleet. It also consists of the optimum types of fuel for the fleet. 
The best practices in trucking logistics also must include the best truck for the job. Sometimes a tractor-trailer is necessary for deliveries, but a dump truck might be ideal in dropping off the gravel. Thus it is essential to identify the particular needs of clients. 
Truck drivers can increase their efficiency with the use of logistics in the trucking industry. Specific hardware can help facilitate better communication. Communication can occur simply between drivers. More importantly, improved communication with dispatch occurs to facilitate the needs of the company.
Trucking logistics incorporates analysis and research to ascertain the requirements of businesses. Addressing the needs efficiently provides high-quality trucking logistics. 
Trucking services consist of the effective means of transportation for dispersing goods across the nation. It is important to utilize state-of-the-art technology to enable trucking logistics in businesses. This means trucks and dispatch need to have hardware installed. 
Properly implemented trucking logistics hardware can help trucking companies eliminate unnecessary costs. The cost savings can be by knowing exactly where a truck is broke down, thus saving time of finding the truck on a highway. In addition, the salvation found in hardware upgrades will eventually allow for other areas of service, such as maintenance.  
Communicating with Technology
Communication needs to occur for trucking logistics to work. Truckers in the field must communicate with headquarters. Headquarter must receive critical transportation pleas. 
Fleet managers can use trucking logistics to track down their drivers. They can help direct their drivers on specific routes. Often, these routes can become the shortest and most efficient paths possible as they finally arrive at their destinations.
Customer satisfaction from tracking software is an added benefit of trucking logistics. This enhancement of services by trucking companies can increase customer satisfaction. For example, not only will you have increased efficiency of freight transportation services through the tracking software but less irate customers. However, it will take the latest in logistics technology, which includes supply chain software, to maximize the capabilities of the carrier service.
If you are in search of semi repair vendors you can find vendors at USA Breakdown for more information. Using our breakdown directory you can search for semi repair options in whatever city and state you may have an emergency in.